Two major trade shows are set to come to the New York City area this fall: Plant Based World Expo in September, and Kosherfest in November. I hope to report back from these shows. Until then, here are some kosher vegan products that have been in the trade news lately.
Pasta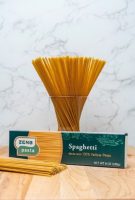 GoodWheat™ pasta, available in penne, rotini, elbows, fettuccine and spaghetti, combines great taste and nutrition, with 4x the fiber (including prebiotic fiber) and 25% more protein than regular wheat pasta. It is Non-GMO. Certified by the OU.
For those looking for gluten-free pasta options, ZENB, a direct-to-consumer plant-based food brand launched Spaghetti made with 100% yellow peas, including the skins. Yellow peas require less water to grow than wheat, add nutrients to the soil they grows in, and provide nutritional benefits with a classic al-dente pasta consistency. In addition to being a good source of protein and fiber, the product is gluten-free, non-GMO, vegan, kosher (by the OU) and has no artificial flavors or preservatives.
Bread
Izzio Artisan Bakery breads are all natural, Non-GMO, Kosher, Vegan and Plant Based. Available fully baked and ready to eat and take home ready to bake in a wrapper that you can bake in and then recycle (it is #1 so most plastic recycling programs can take it). Izzio breads are 100% traceable meaning that they can trace the grains back to their farmers and then to the miller who turns it into fresh flour. The final flour is milled without enrichments or additives. Available in a variety of artisan styles, including authentic sourdough. Kosher supervision is by Denver-based Scroll-K. Available in specialty retailers and online on their website.
For bread lovers who are gluten-free, you now have another choice. Dr. Schär USA received Kosher certification from the OU for its gluten-free Artisan Baker Breads, includingArtisan Baker White, Multigrain, and 10 Grains and Seeds sliced breads.
Dairy Alternatives
For those looking for a vegan and pareve creamer for their iced coffee, Califia Farms, now makes Iced Café Mixers, dairy-free creamers specially formulated for cold coffee beverages. Available in Vanilla Sweet Crème and Caramel Crème, Iced Café Mixers maintain their sweet, vivid flavor even as the ice in your coffee melts. They contain just 3 grams of sugar per serving and feature a delicious, creamy blend of oat and almond milk. Available at Target, Kroger, and other retailers nationwide. Certified kosher pareve by the OU.
A new entry into the vegan cheese category in the US market is Vitalite™ from Saputo Dairy USA. Previously only available across the pond, it is certified kosher by the London Beit Din, and available in six varieties, including mozzarella and cheddar style shreds and slices, plus grated parmesan style and a creamy spread. Vitalite™ products are made without genetically modified ingredients and are vegan- and kosher-certified, gluten-free and except for the Creamy Original soy free.
Snacks
We wrote about RIND® Snacks in our review of Plant-based World snacks. Rind is partnering with Thrive Market to sell a limited-time flavor: RIND Peach Chips. Like all of RIND's products, they contain no added sugars or preservatives and are naturally vegan, gluten-free, Kosher certified (Star-K) and non-GMO verified.
Tequila
Inspiro Tequila launched in the U.S. in 2021 and recently announced the release of an innovative new addition to their portfolio, Inspiro Tequila Rosa Reposado. The first-of-its-kind, small batch, 100% Blue Weber Agave tequila aged in rosé wine oak casks and The Rosa Reposado is then finished in pinot noir wine barrels for a short period to impart a beautiful rose gold color and create an exceptionally complex and unique taste profile. Like Inspiro Tequila Luna Blanco (the brand's first release), the new Inspiro Tequila Rosa Reposado is additive-free and Kosher certified by Chabad of Guadalajara (Rabbi Abraham Srugo).